Snowflake is a popular and sought-after cloud-based data platform. One of the main benefits of Snowflake is its scalability and ability to handle large volumes of data while eliminating a lot of the data admin work. 
In order to accelerate time-to-value for all of the data stored on Snowflake users require timely and secure access to the data. Enabling self-service access on Snowflake empowers users within an organization to immediately access and use data without relying on data engineering resources. Combining Satori's self-service data access with Snowflake's intuitive interface and powerful features, users can easily and securely determine what datasets they have available, explore, query, and analyze data to gain valuable insights and make informed decisions. 
What is Self-Service Data Access?
The purpose of self-service data access is to enable data users to become self-sufficient, eliminating the delay that can stop projects before they start. Self-service data access accelerates time-to-value from data while reducing the time and resource burden on data admins and users. 
The main benefits to using self-service data access include:
Accelerate data-driven value.

The ability to rely on automated workflows ensures that data users get immediate access to data.  Based on the preconfigured security policies, access to data is either granted or withheld and the applicable security policies (such as dynamic data masking, attribute-based access controls or row-level security) are applied. 

Reduce the resource burden on data engineering.

The process of manual data access tickets drains resources and absorbs a large portion of data engineering teams' time. This is frustrating for these teams as they would prefer to work on core projects. This is also frustrating for the business, getting less core value from these teams. Relying on automated data access workflows reduces the burdens on data engineers enabling them to work on their own productive core projects. 
We outline how Snowflake users can use Satori's self-service data access to take advantage of these two competitive advantages.
Related blog post: Access Control: The Dementor of Data Engineers and Empowering Business Growth and Agility with a Self-service Data Culture
Get the latest from Satori
Satori's Self-Service Data Access Portal and Snowflake
Integrating Satori's self-service data portal with Snowflake accelerates time-to-value for Snowflake users. Additionally it shows how data engineering teams save time and resources and gain productivity.
Faster Time-to-Value
It all starts with Satori's Personal Data Portal (PDP) or through platforms like Slack, Jira, Salesforce or others. The Snowflake users can go into their PDP and observe the available datasets. They can then select their desired dataset and gain access to it immediately. Satori dynamically applies security policies according to the organization's security requirements (such as masking data, temporary access to data, and attribute-based access control).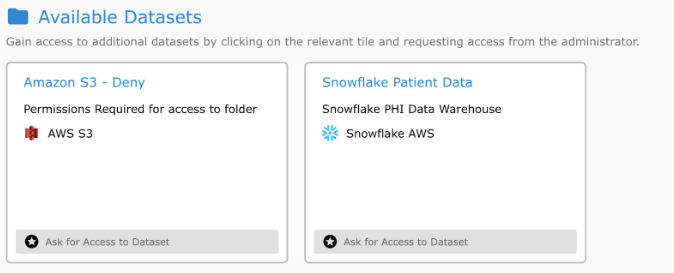 In the above example, the user chooses the desired dataset, Snowflake Patient Data, and can see that it has been set up with Self-Service, Read-Only access with the PHI Patient Data security profile. 
Adding a layer of security to prevent over-privileged users, this access has a 15-minute limit after which access is revoked. 
The Personal Data Portal shows the user how to access the data by providing the information needed to connect, including hostname, database, and user credentials.
The Snowflake user is now all set and can begin using the Snowflake Patient Dataset to generate business insights.
Save Data Engineering & DevOps Time
From the perspective of the data engineering and DevOps team, using self-service data access allows them to set security policies once and not need to "babysit" those. Moving from manual ticketing to an automated workflow reduces the burden and allows these teams to work productively on their core projects. 
The data engineer configures a self-service workflow for user (or user group), Guy Demo, who gets read-only access for 15 minutes. 

The data engineer has generated an automated self-service workflow for this user and no longer needs to manually grant access to data.
The "Guy Demo" user can now access this dataset on their own. 
Once Guy Demo completes the self-service data access process and gains access to the Snowflake Patient Data the 15 minute timer begins. This timer and all active self-service access are visible to the admin through the Access Manager.
The admin also has the ability to view all access rules, including the user, access control, permissions, datasets, expiration, and security policies.
The data engineering team can now continue to work on their core projects instead of granting and revoking permissions.
Conclusion
Satori's self-service, data access enables data users to gain access to analytic and production datasets quickly, easily, and securely. This self-service capability eliminates bottlenecks and reduces dependency on technical resources, enabling users to be more agile and responsive in their data-driven tasks. By democratizing data access, you empower individuals across the organization to harness the full potential of data, driving innovation, and accelerating business growth.
To learn more about using Satori's self-service data access on Snowflake data book a demo meeting with one of our experts.
Read more about: